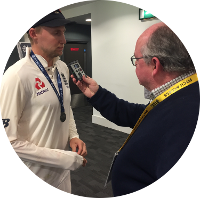 World Sports Communications' core values are honesty, reliability, creativity and delivery.  WSC is a leading sports event broadcaster and  independent producer for BBC Radio and Sky News Radio, and has worked with the England and Wales Cricket Board and the Football Association to maximise coverage on the radio for their sport and their sponsors. WSC also provides multilingual global campaigns – reporting on and promoting the Volvo Ocean Race for instance – as well as working in podcast production, media training and radio PR.
It's a results business…
WSC is one of the few radio agencies to provide detailed Radio Joint Audience Research (RAJAR) analysis for all campaigns – RAJAR is the official body in charge of measuring radio audiences in the UK. This is the most accurate radio audience data available, so clients can always be sure what listenership their campaigns are hitting. WSC not only provides the numbers of listeners, but also a full demographic breakdown.